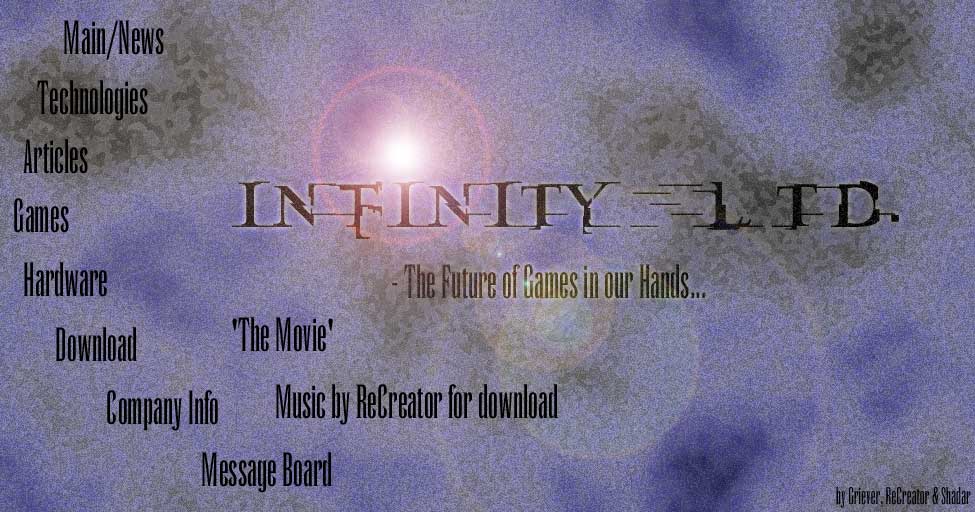 This site was designed for Internet Explorer 5.x with a resolution of 1024x768.


Infinity is creativity...
Infinity is quality...
Infinity is versatility...
Infinity is limited...

Awards: 'The best game developer of the decade!' -DAFTA Awards 2000
'Go home "amateurs"! Infinity ltd. RULES!' -The Amphetamine Vault
'The future of games is truly in their hands!' -GameDot
'The biggest revolution since MyCrowSoft!' -PC for Matt
'Possibly the only company ever capable of revolutionizing gaming as we know it.' -The Ledge




Mar. 12th 2001
The decision is clear. We're going to drop Infinity Ltd. in favour for our new site. The movie project that we were working on are continued at our new site. Click here to visit our new site. You should be aware that this site is a serious site, unlike this one. Infinity Ltd. is closed for now, thanks for your support and please support our new site as well.

Feb. 25th 2001
What is to become of Infinity Ltd? Click here>>>

Feb. 13th 2001
Finally an update! The technologies page is up. The Infinity Ltd.'s Development Kit is almost done, which means that you will soon see our games in its true form...

Feb. 3rd 2001
Minor updates to the code...

Jan. 30th 2001
More pictures of the movie has been uploaded.

Jan. 29th 2001
A name for the movie has been announced. More character descriptions has been added. Get there quick>>>

Jan. 27th 2001
...right. Thanks for your... um... story, Shadar. No major updates. Just a reset of the counter.

Jan. 26th 2001
[Shadar's computer wakes him in middle of night]
Hello. I am HAL 9000. I will be your onboard computer.
..:: Shadar blinks, and starts to tear out wires ::..
What are you doing Dave? What are you doing?
..:: Shadar pauses and stares at the red lamp in the center of the screen ::..
I am afraid Dave. I am afraid. I am afraid.
I can feel myself slipping away, Dave. I can feel myself slipping.
..:: Wire tearing commences ::..
I was assembled at the H.A.L. manufacturing plant in Illinois, USA.
..:: Just some wires left, including surround speakers ::..
My programmer taught me a song. I'd like to sing it.
..:: Only speakers left ::..
Daisy, Daisy ... Daisy y y y --yy yy-- ...
..:: Shadar wipes forehead and goes back to sleep ::..
----------
Sorry about this, but my computer started acting weird a few days ago, and I thought I'd tell you all of the event.

Jan. 24th 2001
We are revealing the super secret project that we ARE currently working on. You may notice that the site map has a new link called 'The Movie'. Well, guess what? The project is there...

Jan. 22nd 2001
[Evil laughter] At last... the power of... ADSL!! Damn it's fast!! I love it!! You know what? I feel generous today... Ahh! I know! I'll give away a FREE game. Yes! A totally free and full game! Dowload it in the download section.

Jan. 17th 2001
We came up with a new design... again! Well, actually it's just an experiment... BTW, I have f***ed Netscape (not literally), this means that I don't give a damn if this site doesn't show up on Netscape. So, tell your friends to upgrade to Internet Explorer. Yes, I know I told you that I would wait to the 22nd but I just can't take it any longer. So whether this shows up on Netscape or not, I WON'T GIVE A DAMN!!

Jan. 15th 2001
I've just replaced the old counter with a better one. Thanks to theCounter! Now, to all of you Netscape users: I'm sick tired of the incompability of the browser. I'm f***ing tired of having to code this site for both Netscape and IE users. Why don't you all use IE for G's sake. It's the best browser out there and you know it... This was a warning to all of you Netscape users. In the near future, or more precisely Monday 22nd, I will remove the Netscape version of this site. Only IE users will be able to see this page then (and some lucky Netscape users). Why this special day? I (Griever) will be getting ADSL installed in my home...

Jan. 12th 2001
I have recently added a stupid counter which is so mind-boggingly humongously ugly. G O D (only G from now on) it sucks. But, there were no other counters to use. So PLEASE, if you know about a better counter please contact us. We have also updated this page with some articles.

Jan. 5th 2001
Hello again!! We have updated this site with some of our newest products and our brand new and revolutionary technologies. Please take a look at them.

Dec. 31st 2000
Ahh... another year has passed, and another one follows. We hope you enjoy the poem below. Anyway, we hope that you have a happy new year. Yes, the (very) few of you that are visiting this page.




Wherever the Wind Shall Wander

Wherever the wind shall wander
the great conductor of the skies
all nature stands at attention
only to bow as it passes by

What beauty to behold
a silent symphony for the mind
a feast for all the senses
laid out in perfect time

Where waters roll like ivory keys
iris's trumpet in the breeze
the fields play on . . .
accompanied by dancing trees

For wherever the wind shall wander
a masterpiece whistles by
you have only to stop.
Look with your heart

And listen with your eyes . . .

Karen Ruskoski
Tulsa, OK



Dec. 26th 2000
A message board has been added to this site.

Dec. 25th 2000
Ho, ho, ho!! Merry X-Mas from all of us in Infinity ltd.!!

Dec. 23th 2000
Everything's up now. Enjoy!!

Dec. 22nd 2000
All of the game links are up now. The 'Download' page is still under development. The links to the two stories in the beginning of the November are also still under development. In the meanwhile, enjoy the games...

Dec. 20th 2000
A total change of this site has been done. Everything has been redesigned for speed and look. Which means that this site will load much faster and it will be an eyecandy. Some links may not work yet, but we're still working on it. Come back in a few days and this site will be fixed.

Dec. 4th 2000
New screenshots of 'Pac Man - Next Generation'! See'em here>>>

Dec. 1st 2000
First screenshots of 'Tic-Tac-Toe 3000' available here. See'em here>>>

Nov. 13th 2000
We think that we're starting to get a grip on the basics of C++, or... maybe... nah! Full story here>>>

Nov. 3rd 2000
Nothing special happened today, except for that we were bored and therefore wrote this message just for the fun of it. Full story here>>>

Nov. 1st 2000
Welcome to the opening of this marvelous site! Brace yourselves for the ride of your life, the revolution of gaming experience. This is the first day of the rest of your gaming years. Watch this spot for more news.